iPhone users always face problems with regards to the creation of duplicate contacts. Especially while syncing their device with their iCloud account. But the process has been made simple with iOS 16. Let's get to know how to merge or delete duplicate contacts on the iPhone.
1. Delete and Merge Duplicate Contacts Manually
Fixing the duplicate contacts can be done by an easy method. And that is to delete duplicate contacts manually and merge those. Follow the Steps to Manually Delete and Merge Duplicate Contacts
1.Open the Phone app on your iPhone and go to Contacts.
2. Locate and open if any duplicate contact is present in contact list
3.Tap on Edit option to make changes
4. Scroll to the bottom and locate 'Delete contact option' and tap to delete that contact.
5.To merge the duplicate contacts into a single contact profile tap on the 'Link Contacts Option' and select all the required duplicate contacts from the contacts list.
2. Use of iCloud Account to Delete Multiple Duplicate Contact
By using the iCloud it would be an easy task to delete duplicate contacts. For this you need an online iCloud service. This option is best for those who sync their iPhone contacts into an iCloud account.
Open a new tab in the web browser and access the iCloud Website
Now Sign in into your iCloud account using the credentials.
After successful login into your iCloud account, tap on the Contacts button to open the synced iPhone contacts.

On the next page, you can view the list of all the available synced contacts.
Press the Ctrl Key on the keyboard and select the duplicate Contacts which you wish to delete. Next locate the Gear icon which is at the bottom-left corner of the screen and click on delete option.
Tap on the Delete button of the confirmation box.
Now as the contacts get deleted, the new changes will reflect in your account.
This is how you successfully delete your duplicate contacts using your iPhone's iCloud account.
3. Try a Third Party App to Remove Duplicate Contacts
Removing duplicate contacts can even be done using a third- party apps
Open Apple Appstore on iPhone and search for the Contact Cleanup app to install it.
Tap on Open Button to launch the app
Now, tap on Import Contacts Button to import all your device's contacts.
For this we need to provide necessary contact access to the app, so tap Ok
Now you can also backup your existing contacts to restore them later by tapping on Back Now Button.
This will scan your contacts automatically and identify the duplicate contacts . Now to view all the duplicate contacts, tap on Duplicate Contacts option. Tap on the wished contacts to be deleted.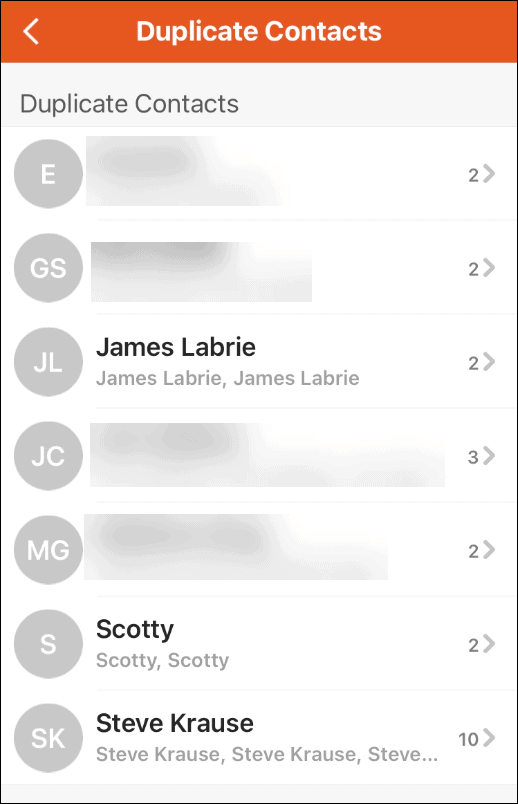 To merge all the duplicate contacts into a single contact profile, tap on the merge button.
Now you can repeat this process as many times you wish to merge or delete duplicate contacts.
These are a few steps to be followed to merge or delete duplicate contacts. If you would like to know more about such interesting things, keep viewing Gadget Mini.