What is Cloud Gaming?
When a new game is released, game developers publish a list of hardware requirements known as minimum system requirements and recommended system requirements and now a days every game can be played via Cloud Gaming platforms.
To run smoothly, the game requires hardware that is at least as capable as the minimum requirements. Most modern graphics-intensive games require a lot of RAM and graphical power from your device. To play modern AAA titles, you will undoubtedly need expensive gaming hardware, but is there a less expensive alternative?
Yes, the answer is yes! Cloud gaming services allow you to play your favorite games on any device that has an internet connection and a display.
With the best cloud gaming services on your side, your low-end hardware will never be a bottleneck in your gaming journey.
Cloud Gaming Services Advantages
Cloud gaming has several advantages over traditional gaming. Some of the best cloud gaming features include:
There is no requirement for high-end hardware
As previously stated, cloud gaming services do not require high-end devices to allow you to play your favorite games. You can play the most recent games on the oldest devices without spending a dime on hardware upgrades. If you don't have a high-end device but enjoy gaming, a cloud gaming service is the best option.
There is no need to download games
For modern AAA titles, requiring a few hundred gigabytes of storage space isn't a big deal. Downloading such massive files necessitates a significant amount of bandwidth and storage space on your device. To have a substantial library of modern games, you will also need to upgrade your device storage.
A cloud gaming service does not require you to download any game files in order to play a game. You also have the most extensive game library at your disposal, which is nearly impossible with traditional gaming.
Freedom to play anywhere
In general, gaming devices are not very portable. Even the most portable gaming laptops will not allow you to play in a subway or waiting room! Cloud gaming services make gaming extremely portable, allowing you to play anywhere and at any time.
You can play on any device
Cloud gaming services allow you to play games on Android, iPhones, Windows, Mac, and Linux devices, among others. These services enable cross-platform gaming on devices, and progress is synced across all devices registered to the same account. You can even play on a smartphone if you don't have access to a larger screen.
1. NVIDIA GeForce Now
The NVIDIA GeForce Now delivers a satisfying gaming experience with minimal input lag, but it requires a strong internet connection to function properly. While most cloud gaming services include a game library from which you can purchase individual games, GeForce Now does not.
Only games from well-known game clients such as Steam, Epic, Uplay, and others can be integrated. It's also worth noting that GeForce Now may not support a few games from certain game clients.
GeForce Now allows you to game at a maximum resolution of 1080p at 60 frames per second, but the games begin with a native setting of 720p at 60 frames per second. The GeForce Now app is available for Android, iOS, and Mac, and it supports a wide range of hardware.
The best part about using the cloud gaming service is how little input lag there is. Because of the lower input lag, the gaming experience is as seamless and smooth as traditional gaming.
2. PlayStation Now
If you own a PlayStation or enjoy PlayStation games, PlayStation Now is an excellent alternative. The cloud gaming service includes a library of over 800 games that you can access once you pay for your subscription. Then, PlayStation Now gives you complete control over all of their titles.
You can either download and play the games or stream them using the PS Now servers. It includes a perfect mix of classic PS2 titles and modern titles from the PS4 and 5.
The only drawbacks to using PS Now are its limited cross-platform compatibility and a lack of newly released games. The cloud gaming service does not support smartphone operating systems such as Android or iOS and is only available on Windows PCs or PlayStation consoles.
Despite the fact that the library is constantly expanding, PS Now still appears to be a PlayStation-only service rather than a full-fledged cloud gaming service.
3. Google Stadia
The much-tooted Google Stadia did not live up to user expectations when it first debuted, but the cloud gaming service has vastly improved since then.
Stadia can be accessed via the Android mobile app and browsers on all other devices such as Mac, Windows, and others. Stadia allows you to rent games from their library on a monthly basis or subscribe to a monthly subscription that includes handpicked titles.
Another distinguishing feature of the cloud gaming service is the Stadia controller. You can connect the Stadia controller to your Android device and enjoy console-style gaming on the go. The controller can be difficult to set up at times, but it is extremely responsive and feature-rich.
Popular titles such as Assassin's Creed: Valhalla, CyberPunk 2077, and others can be found in Stadia's library, along with other legendary titles. You can expand your game library even further by purchasing Ubisoft's add-on, which adds several Ubisoft games to the library.
4. Shadow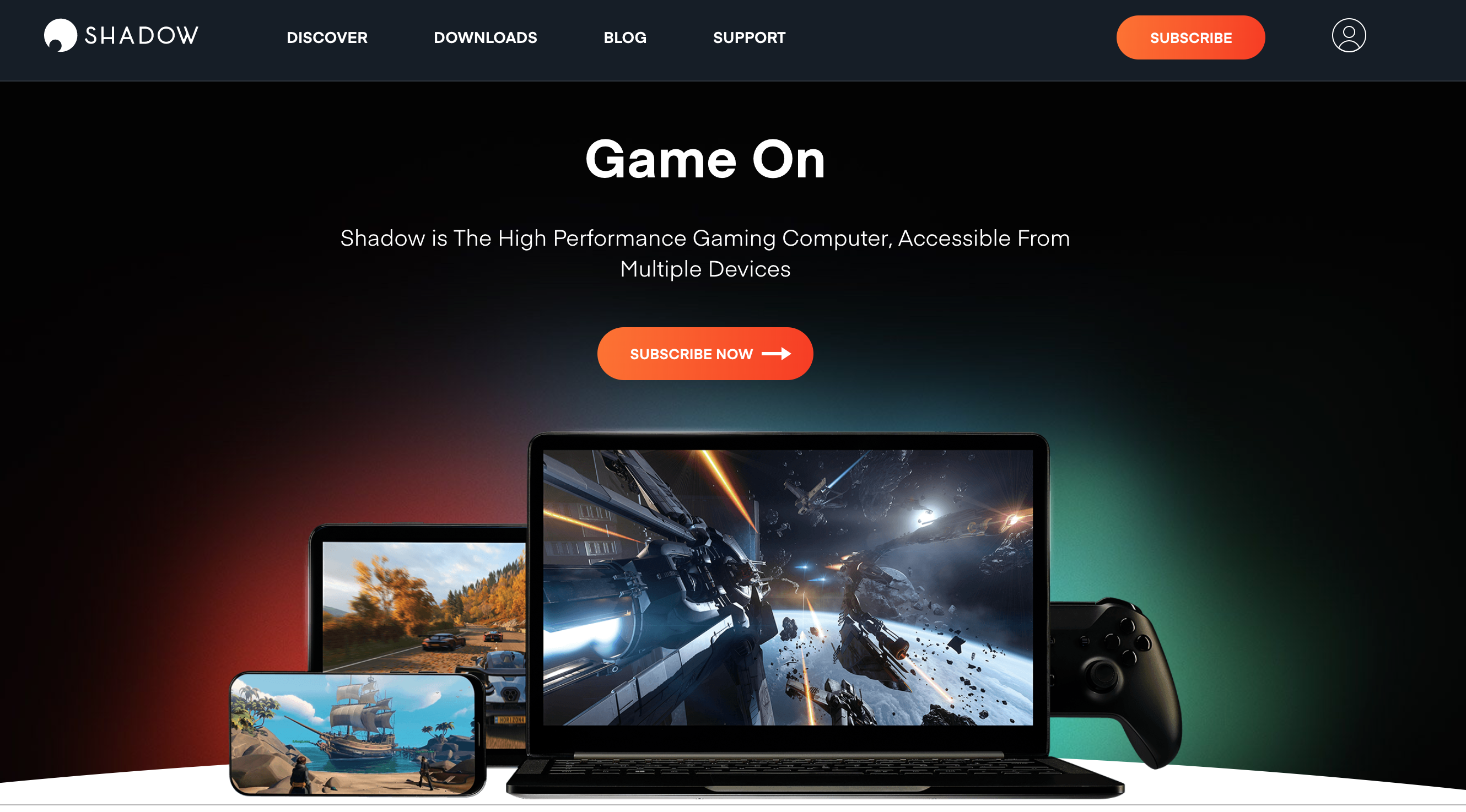 Shadow is not a cloud gaming service; rather, Shadow is a cloud computing service. Shadow, unlike other cloud gaming services, dedicates an entire computer to you when you want to play a game.
You get a new Windows-powered computer with RTX graphics, 12 GB of RAM, and a download speed of 1 Gbps. The user can change all of the system settings on the Windows computer just like they would on a regular machine.
The best thing about Shadow is that it works with any game that can be run on a Windows machine. The streaming quality and input lag are exceptional, providing the best-in-class user experience. Shadow's monthly subscription is on the expensive side, but it is one of the best cloud gaming services due to its incredible feature set.
5. Amazon Luna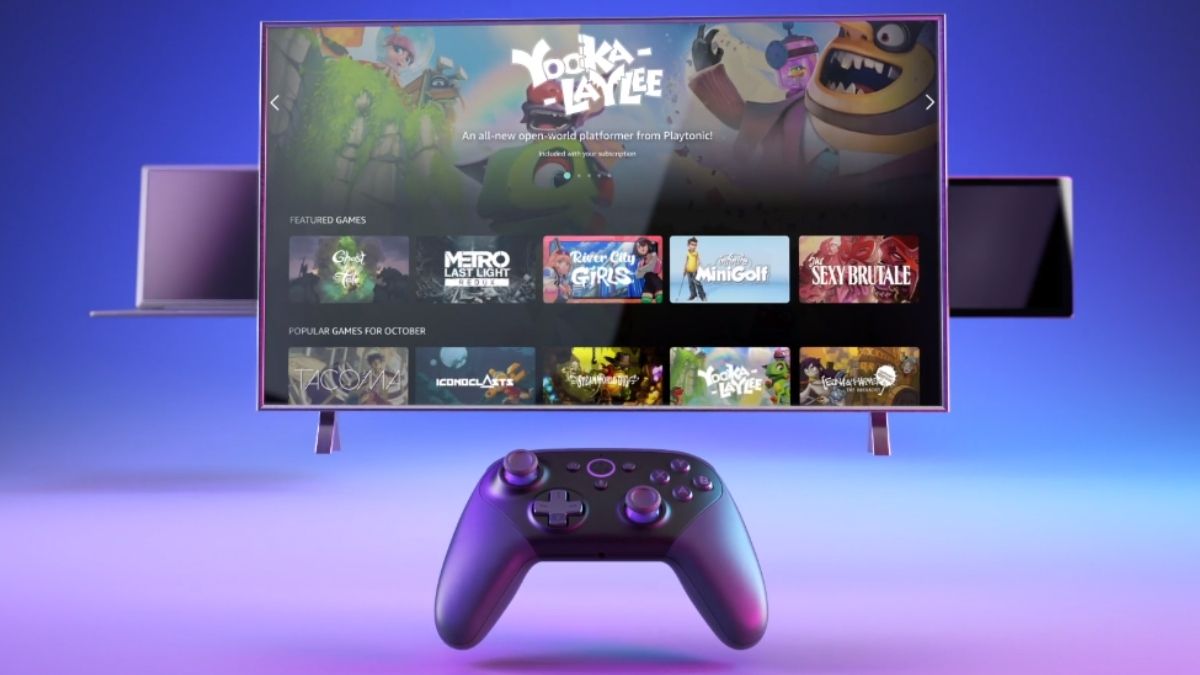 Amazon Luna is a newcomer to the list of best cloud gaming services. Luna has a small but rapidly expanding game library and a good gaming experience.
Luna currently only supports web browser-based gameplay, but the Luna controller can greatly expand the feature set. The Luna Controller connects to your devices while playing Luna games, giving you better control.
To reduce latency and avoid input lag, the controller connects to a separate Wi-Fi connection. The controller can also be used to switch between multiple devices running the cloud gaming service.
Luna currently offers games such as Wonderful 101: Remastered, Ride 4, and Narita Boy, but you can upgrade your subscription to include Ubisoft+. Ubisoft + will grant you access to well-known AAA titles such as Assassin's Creed: Valhalla, Watch Dogs: Legion, Far Cry 5, and others.
6. Playkey
Playkey uses Blockchain technology for its cloud gaming services rather than centralized servers. Playkey is a win-win service for both cryptocurrency miners and gamers. You can let your device mine cryptocurrency by connecting to the blockchain network, or you can use the good old cloud gaming service.
For the best cloud gaming experience, Playkey servers include the Nvidia GeForce 1080 Ti with 3584 CUDA 11 GB, an i7 4-core processor, and 20GB RAM. The service works flawlessly on any device with more than 1 GB of RAM and a 1.5 GHz processor. Playkey does not currently support mobile devices and only runs on desktop operating systems.
Ubisoft, Bethesda, and WarGaming have direct agreements with Playkey to share their libraries with the platform. You can also import your Steam library or purchase individual titles through Playkey.
The overall gaming experience is smooth, with no stuttering or input lag. You also get a variety of game settings ranging from 720p 30 FPS to 1080 120 FPS, with more bandwidth required as the settings are increased. Payment via cryptocurrency is yet another fantastic feature if you enjoy exchanging services via cryptocurrency.
7. Paperspace
Paperspace is yet another cloud computing service that includes gaming as part of the overall picture. Paperspace, like Shadow, assigns a Windows computer after you subscribe to a plan and allows you to use the remote PC as you see fit. The ability to choose your own hardware is the best part about using Paperspace; you can choose relatively less expensive hardware if you want to play lighter games, and vice versa.
You must download your games or integrate them into your existing game clients such as Steam, Epic Games, and others. This increases the actual cost and effort required to play a game. Paperspace is best suited for users who have a sizable game library attached to their game client, as buying games on top of a cloud gaming subscription is usually a rip-off.
Paperspace provides a good streaming experience as well as up to 4K gaming. You can also rent gaming hardware by the hour, which is a great feature for users who don't want to commit to a monthly subscription.
8. Blacknut
Blacknut is a low-cost cloud gaming service with an easy-to-use application interface. The application comes with a two-week free trial period to allow you to get acquainted with it. Because Blacknut markets its product as a family-centric entity, it includes features such as multiple profile support and parental control.
It works on a variety of platforms, including Windows, Mac, Amazon Fire TV, Linux, Android, and others.
The platform has a library of 500+ games, but some of the most popular games are missing. You can try Blacknut for basic gaming, but if you want to be a professional gamer, this may not be the best platform.
9. Rainway
What happens if you don't want to use your gaming PC every time you want to play? Rainway comes to your aid, acting as the host and streaming your PC games to your mobile devices. To use the platform, you must have a gaming PC and games installed on it, but Rainway becomes a game changer for the large niche that meets both requirements.
The streaming quality is noticeably better than that of several cloud gaming services with mediocre backend hardware. When the conditions are right, you can experience crystal clear frames despite the fact that internet quality still plays a significant role in streaming quality.
10. NetBoom
NetBoom provides a full-fledged cloud gaming experience on mobile devices, including all major AAA titles. To stream your favorite games, you get support for Android, iOS, and web browsers. Through their specially designed interface, the NetBoom gaming interface perfectly handles PC games that use touch input. It even includes a customizable Virtual Keyboard for use during gameplay. Popular titles in the ever-expanding game library include GTA V, Far Cry 5, FIFA, Hitman, and others.
The best part about NetBoom is that playing games are a simple process. A game can be played by anyone, as it does not require any prior installation or configuration before being launched.
The gaming quality is good, especially if you use a fast internet connection to access the game. From within the application, you can easily connect peripheral devices such as earphones and controllers and change their settings.
11. Boosteroid
Boosteroid is a browser-based cloud gaming service that allows you to remotely play a plethora of well-known AAA titles. Setting up Boosteroid is a simple process; simply log in to their website and begin playing. There is no installation or setup required, and you do not need to download anything before playing. Through the web browser, the cloud gaming service provides cross-platform support for PC, Macs, laptops, tablets, and other devices.
Boosteroid collaborates with Huawei, Intel, Asus, Nvidia, and other companies to provide a good gaming experience. With a 15 Mbps connection, you can easily play games at high settings (1080p). The platform's only drawback is its packet handling. Because Boosteroid is a browser-based service, it cannot handle large packages like a dedicated application, resulting in frame drops and stuttering.
Cloud gaming is the way of the future. The best cloud gaming services are listed above, each with its own set of advantages and disadvantages. When selecting your next cloud gaming service, look for a good streaming experience and a diverse game library. Some of the best cloud gaming services are NVIDIA GeForce Now, Vortex, and Shadow.
Also read: MediaTek Dimensity 9200 | New Flagship Processor for Next-Gen Devices