In order to easily access apps and websites using FaceID or TouchID, Apple allows you to store usernames and passwords in iCloud Keychain. What happens, though, if you wish to manage those passwords and stored accounts? Here are few ways in which you can find saved passwords on your Iphone.
How to locate saved passwords on an iPad or iPhone
Then click Passwords & Accounts (iOS 13). Its name in iOS 14 is Passwords
Hit Passwords for Websites & Apps. Use FaceID or TouchID to verify your identity. A list of saved passwords will appear. 
How to use Siri to view saved passwords
Use the iPhone's Siri to invoke. On iPhones with Face ID, you can do this by pushing the right-side button. Press and hold the Home Button on other iPhone models. You can also say the popular phrase "Hey Siri."
Ask Siri to "Show all my passwords" right away.
Siri can also be used to request specific passwords. Say something like, "Show my Gmail password," or "Show my Twitter password," to do this.
Next, verify your identity with Touch ID or Face ID. You may see, copy, or AirDrop your credentials while in Settings.
What do AutoFill Passwords mean?
When Autofill Passwords is enabled, the username and email are displayed above the keyboard (or you can tap the key icon) when you are on a website or app's login page. The password is not displayed but is automatically filled in. It is quite useful.
You do have the option to turn off this feature, though, thanks to Apple. Toggle Autofill Passwords on or off in Settings Passwords & Accounts to accomplish this. You'll then need to manually perform the actions listed above, see and copy the username and password, and input or paste them.
How to remove passwords and accounts from iCloud Keychain
Go to Passwords & Accounts in Settings. 
Hit Passwords for Websites & Apps. Use TouchID or FaceID to verify your identity 
From the upper right, select Edit and Tap Delete after selecting the desired entries. 
Add a password by manually to the iCloud Keychain.
Tap Passwords & Accounts after opening Settings.
Hit Passwords for Websites & Apps.
Select the addition sign (+).
Enter the URL, user name, and password. Then select Done.
How to change remembered passwords on an iPad or iPhone
Open Settings, then select Passwords & Accounts. 
Hit Passwords for Websites & Apps.
Tap Edit after selecting a saved entry.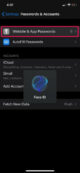 To make the changes, press the username and password fields now. You can also remove this entry from the Keychain from this point. Then select Done. 
What do the iOS 14 Security Recommendations entail?
In iOS 13, you will notice a little triangle with an exclamation mark inside it if you use the same password on many websites or apps. You can see which websites you've used the same password on by tapping on it. Really cool!
Apple increased the level of password monitoring with iOS 14. It now alerts you automatically if the passwords you use have been compromised or not.
Safari 'uses strong cryptographic techniques to periodically compare derivations of your passwords against a list of breached passwords in a secure and private way that doesn't reveal your password information, even to Apple,' according to Apple.
I hope this article will be useful to you in managing the accounts and saved passwords on your iPhone and iPad. If you have any questions, please ask them in the comments section below.