Tired of carrying your wallet and your phone together when going for a walk or to the gym?? Why not try the new card holder cases for your new iPhone . Now let's explore the new card holder cases for your iPhone. It makes your pockets lightweight to carry your cards with your phone and no wallet.
Now let us know about the best card holder cases for iPhone. The manufacturer has produced a new variety of cases with different texture, styles and colors. Here are few brands which produce the best card holder cases
SMARTISH
Smartish has manufactured a hard level case with high protection and minimal design. The card holder is sleek and makes your iPhone look slim and stylish. But the color options are not available. And has high-grip textured sides.
Card holder is touted to hold three cards and the phone can be charged wirelessly as this was approved by Nikola Tesla.
SPIGEN
Spigen is one of the best manufacturers of iPhone cases. Now they have produced a slim and sleek design which provides absolute protection to your iPhone. You can store the cards beneath the slider.
Spigen have used a dual layer protection and air cushion technology which protects even the corner from damages and scratches. The other good feature is that there's color availability. It comes in 4 colors namely red, black, pink, blue. Since it's a hard case there's difficulty in opening.
VENA
VENA is another manufacturer which has the best iPhone cases in their store. They produce a military-grade protection case. Now along with this protection they have included a card holding option and can store upto 3 cards which are hidden.
The material is used as an advanced dual layer of hybrid PC and soft rubber which provides ultimate protection from damages. But the color availability is limited.
Snakehive
Snakehive has produced a leather case which provides all-round protection to your iPhone. Another feature is that it has a capacity to hold three cards. It's a folio-style wallet case.
Snakehive leather case can also be used as a kickstand. The case gives good protection. But it may get bulky. They have unique color options.
Dockem
Dockem is a famous brand in manufacturing iPhone cases and now they have produced a synthetic leather case with a card holder. The card holder holds two cards.
The Dockem card holder case has an integrated metal plate, which makes magnetic mounting breeze. This allows for wireless charging of the iPhone. But not many colors are available.
ZVEdeng
ZVEdeng have produced a shockproof and a case that holds your cards in a confidential way. It can carry around two cards and some cash.
ZVEdeng uses PU leather and has a TPU base shell. The magnetic flap keeps the cards secure. But the best thing is that there are different patterns and colors available.
SAMONPOW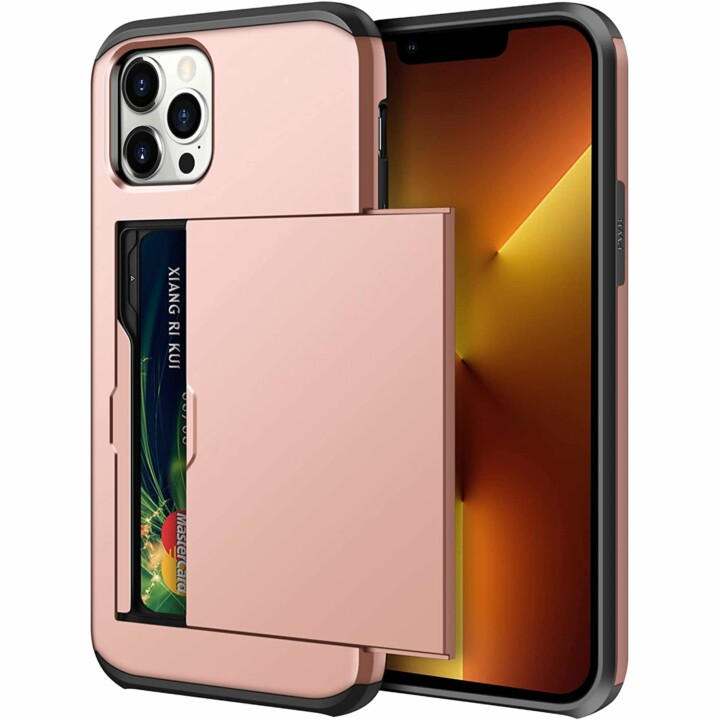 SAMONPOW has produced a heavy duty case which even protects your corners. And the card holder is such a way that it can slide easily. And you can store two cards.
SAMONPOW uses an advanced dual layer hybrid PC and soft rubber. It's gives a complete protection to your iPhone.